The Bulgarian National Bank puts into circulation a new series of banknotes. The general design and the main elements of the banknotes of the new series are preserved without significant changes compared to the banknotes in circulation. The changes in the banknotes of the new series result mainly from the introduction of new security features.
The last banknote of the new series has a face value of BGN 5, issue 2020, and has been in circulation since September 4, 2020 as a legal tender.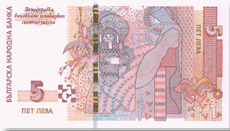 On the obverse there is a portrait of Ivan Milev; vertical texts "Ivan Milev" and "1897 - 1927"; the face value of the banknote in figures and words.
On the reverse side are fragments of the paintings "Reaper", "Bulgarian Madonna" and "Dragon Wedding" and the denomination of the banknote is marked with numbers and words.
Technical parameters
Predominant color - burgundy.
Material - pink tinted paper with lacquer coating after printing.
Size - 121 x 67 mm.
New security features
An additional sign for blind citizens - consists of one thick and nine thin lines located at an angle to the two short sides of the banknote.
Holographic tape with optical effects - alternating when changing the angle of observation images of a reaper and a stylized flower; color holographic portrait of Ivan Milev; stylized image of a fragment from the cover of ECA magazine; images of an upright crowned lion with a dynamic effect and a three-dimensional image of the number "5".
Security thread - embedded in the paper, partially protruding in sectors on the reverse side, with bright repeating text "BNB 5" and with a vertical dynamic effect, changing its color from red to green. The image of the repeating text "BNB 5" is read on the obverse when placing the banknote against a light source.
High resolution watermark - observed when placing the banknote against a light source. It consists of a high-resolution halftone image of the portrait of Ivan Milev. The image is also seen on the reverse of the banknote.
Source: BNB
Get the latest Banknotes news and updates with our free iOS and Android app. Download Now!