On Wednesday, 26 September, Latvijas Banka is issuing a 2 euro commemorative coin dedicated to the Zemgale region of Latvia.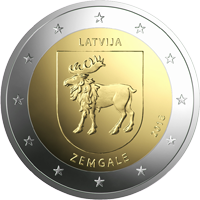 This coin concludes the series of 2 euro commemorative coins dedicated to Latvia's cultural and historical regions. The 2 euro commemorative coin depicting the coat of arms of Vidzeme was issued in 2016, and the coins featuring the coats of arms of Kurzeme and Latgale last year.
Each year, every euro area country is entitled to issue two 2 euro circulation coins of special design or commemorative coins as well as one more commemorative coin within a joint program of several euro area countries.
The national side of the commemorative coins issued by Latvijas Banka features the inscription "LATVIJA", and the edge of the coin, like all other 2 euro circulation coins of the Republic of Latvia, features the inscription "DIEVS * SVĒTĪ * LATVIJU *" (God blass Latvia). The new 2 euro coin has been minted by Staatliche Münze Baden-Württemberg in Germany.
The new commemorative coins will be circulated in the same way as any other circulation money, reaching commercial and other enterprises as well as the general public through banks. As of Wednesday, 26 September, the coins will be available for exchange at the Cashier's Offices of Latvijas Banka in Riga and Liepāja. The mintage of the coin is 500,000 pieces.
Source: bank.lv/en