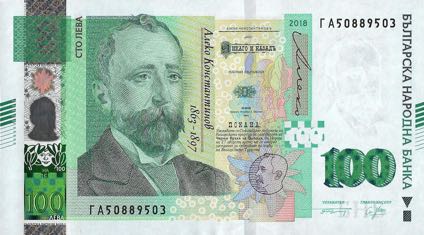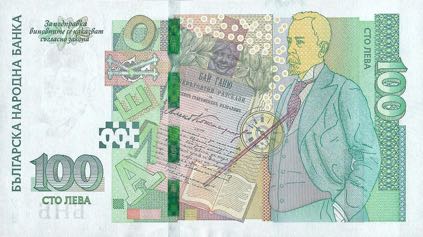 On December 28, 2018, the BNB puts into circulation a new banknote with a par value of BGN 100. The common design and basic features are the same as those of the old banknote except for the new security changes. There is an additional sign for blind people where there is five thick and six thin lines located at an angle of the two short sides of the banknote. There is a colour holographic portrait of Aleko Konstantinov changing its colour from Emerald green to Sapphire Blue when the viewing angle is changed, with a volume three-dimensional image of number 100.
Optical ink is used where the number 100 is printed with a colour changing ink, which changes from Emery to Green to Green sapphire blue. There is an image of the light repeating text "BNB 100" which is read from the front when placed against a light source. A high-resolution halftone image of the portrait of Aleko Konstantinov can be seen when the banknote is placed against a light source, which can be seen on the reverse side too.
Get the latest Banknotes news and updates with our free iOS and Android app. Download Now!