The Bank of Mexico issues a new 500-peso note in which our historical legacy and natural wealth are captured with innovative security features. Know them! Multicolored name. Move the ticket slightly and observe how the color changes from green to blue of the number 500. The dynamic thread. The elements within the green band have movement. Watermark. The portrait of Benito Juárez and number 500 are backlit. Folio of increasing size. Reliefs sensitive to touch in texts, Bank of Mexico, the image of the hero, 500 pesos, among others. ID cards on the front and back, and the fluorescence that highlights some inks under black light. Better elements and a unique design printed on cotton paper. New bill of 500 pesos. The first of a new family of tickets that pays homage to our historical identity and natural heritage. Review is effective! Bank of Mexico.
Design features
Type                  G
Size                    146 X 65 mm
Material           Cotton paper
Obverse :         The image, which represents the Liberal Reform and the Restoration of the          Republic, is depicted with an image of President Benito Juárez (1806-1972), who issued the Laws of Reform with the support of radical liberals. Because of his defense of human liberties, an example for other Latin American countries, Benito Juárez was proclaimed "Benemérito de las Américas" (Distinguished Hero of the Americas).
The figure of Benito Juárez is accompanied by a representation of his triumphal entrance to Mexico City on July 15, 1867, and symbolizes the victory of the Liberal Reform, the separation of Church and State, and of the basic principle of equality before the Law.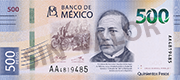 Reverse :    The image, which represents Mexico's coastline, sea and island ecosystems, is depicted with a gray whale and her calf in El Vizcaino Biosphere Reserve, Baja California, designated by UNESCO as natural heritage of mankind.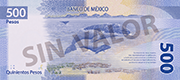 The predominant colors on the banknote is blue & In circulation as of August 27, 2018.
Security elements
Intaglio and embossing perceptible by touch
Folio numbers
Multicolor denomination
Linear background
Watermark
Cotton paper
Dynamic thread
Fluorescence
Increasing folio
Source: banxico